Sicherlich haben Sie auch schon einmal den Begriff «Schlafapnoe» gehört. Das überrascht nicht, denn in den letzten Jahren ist das Thema vermehrt in den Fokus der Öffentlichkeit gerückt. Wir von Sleepiz werden Ihnen im Rahmen dieses Leitfadens, der eine Ergänzung der Inhalte auf unserer Website darstellt, die wichtigsten Aspekte näherbringen sowie Möglichkeiten aufzeigen, um zu einem erholsameren Schlaf zu finden.
Sollten Sie Fragen oder Anregungen haben, zögern Sie nicht, sich mit uns in Verbindung zu setzen.
Verbreitung und Beschreibung
Mehr als 150'000 Menschen leiden landesweit an einer Schlafapnoe, wie die Lungenliga Schweiz festhält. Und nicht nur hierzulande sind die nächtlichen Atemaussetzer weitverbreitet: Global leiden etwa 936 Millionen Erwachsene im Alter zwischen 30 und 69 Jahren an leichter bis schwerer obstruktiver Schlafapnoe. Dies geht aus einer Studie aus dem Jahr 2019 [1] hervor, die zuverlässige Daten zur Prävalenz der obstruktiven Schlafapnoe aus 16 Ländern verwendete, um deren globale Verbreitung zu schätzen. Die Tendenz ist steigend, da zunehmendes Alter sowie ein hoher BMI bekannte Risikofaktoren für Schlafapnoe darstellen. Angesichts der weltweiten Entwicklung, dass die Anzahl von übergewichtigen sowie fettleibigen Personen ansteigt und wir in einer zunehmend alternden Bevölkerung leben, dürfte sich die globale Prävalenz der Schlafapnoe noch weiter erhöhen.
Doch was zeichnet die Schlafapnoe eigentlich aus? Es handelt sich dabei um eine anhaltende Störung, die durch wiederholte Atempausen während des Schlafs ausgelöst wird. Die Hauptsymptome sind eine unbeständige nächtliche Schlafqualität, lautes Schnarchen, merkliche Atemlücken, übermässige Tagesmüdigkeit und Müdigkeit [2]. Das Auftreten von wiederkehrenden Atempausen bei Personen mit obstruktiver Schlafapnoe ist auf einen teilweisen oder vollständigen Kollaps der oberen Atemwege zurückzuführen, was zu einem beeinträchtigten Gasaustausch sowie häufigem Erwachen während der Nacht führt [2].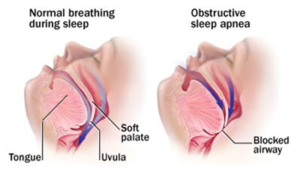 Quellen:
1. Benjafield, A. V., Ayas, N. T., Eastwood, P. R., Heinzer, R., Ip, M. S., Morrell, M. J., … & Malhotra, A. (2019). Schätzung der globalen Prävalenz und Belastung durch obstruktive Schlafapnoe: eine literaturbasierte Analyse. The Lancet Respiratory Medicine, 7(8), 687-698.
2. Punjabi, N. M. (2008). Die Epidemiologie der obstruktiven Schlafapnoe bei Erwachsenen. Proceedings of the American Thoracic Society, 5(2), 136-143.
Bildquelle:
www.unmc.edu